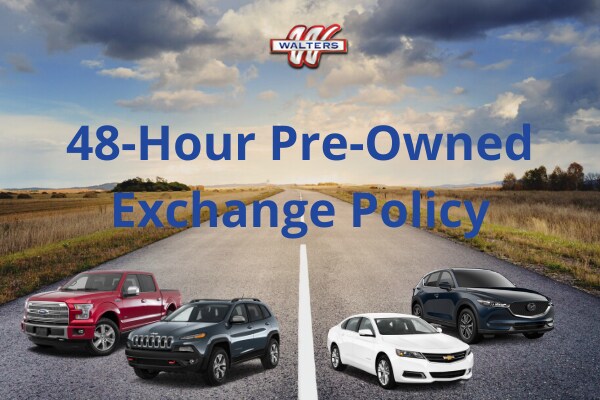 Buying a pre-owned vehicle is a big decision. On top of the financial aspects, making sure you're happy with the car you end up with can add a lot of pressure to the process. At Walters Mitsubishi, we know how hard it can be to choose an automobile and want to help make the decision as stress-free as possible. That's why we've implemented our famous 48-hour exchange policy for anyone who purchases a pre-owned vehicle from Walters Mitsubishi.  
How the 48-Hour Pre-Owned Exchange Policy Works
At Walters Mitsubishi, your peace of mind matters. As part of our commitment to customer satisfaction, if for some reason you are not completely satisfied with your pre-owned vehicle purchase, you may exchange it for another at our dealership within 48-hours. While this may seem too good to be true, at Walters Mitsubishi, we prove time and time again that we are willing to go above and beyond to ensure our customers drive home in a vehicle they love. Remember, "When others won't, Walters will!"  
Walters Mitsubishi 48-Hour Exchange Policy Rules
You may return the vehicle within 2 business days by closing time. Monday - Friday (6 PM), Saturday (5 PM). 
You may exchange your vehicle for any pre-owned vehicle at any location, as long as you return the vehicle to the dealership you originally purchased it from. 
All exchanges are contingent upon approved financing. 
Customers are limited to one exchange only. 
Any mechanical or body damage to the vehicle voids the exchange. 
If you drive your vehicles 500 miles, the exchange is void. 
Keep in mind that your trade allowance may vary based on the vehicle you exchange to. Different cars have different values. 
The exchange policy applies to any priced vehicle - no price restrictions. 
There will be NO exceptions to the rules nor any extension to the time constraints for an exchange. 
As the dealer, Walters Mitsubishi reserves the right to terminate the exchange at any time.  
Shop Walters Mitsubishi's Used Inventory
Are you looking for a reliable used car, truck, or SUV? With used cars from brands like Mitsubishi, BMW, and Cadillac, Walters Mitsubishi in Pikeville, KY, has a great selection of used vehicles for sale. Save some of your hard-earned cash and get a great ride when you shop used at Walters Mitsubishi. Shop through our entire lineup of pre-owned vehicles online or stop by the dealership at your convenience for a walk-through. Browse with confidence knowing that all of our pre-owned vehicles are carefully inspected by our service team to ensure quality. If you're shopping for used vehicles in the Pikeville, Galveston, or Raccoon, KY areas, there's no better place than Walters Mitsubishi.

Contact Walters Mitsubishi in Pikeville, KY to Learn More About Our 48-Hour Pre-Owned Exchange Policy
Do you have questions about Walters Mitsubishi's unbelievable 48-hour exchange policy? Would you like to learn more about one of the vehicles in our inventory or schedule a test drive? Contact Walters Mitsubishi in Pikeville, KY today! One of our friendly team members would be happy to assist you in any way they can.